By Dr. Tilak Siyambalapitiya
So, here we go again. There is a new team leading the Board of Investment. A new PPP agency is in the making, whatever PPP means. PUCSL, the electricity industry regulator, has recently approved an all-diesel power generation plan (name board says 'gas' but to the delight of many, they will run on diesel). The oil refinery is ageing and falling apart. While the entire world is drawing comfort in their energy business with low energy prices, Sri Lanka is shivering, moving dangerously towards full-scale power blackouts, shortages and price increases. Why?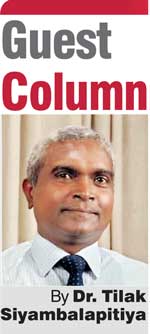 To the Board of Investment
Your previous Chairman said in early 2015 that he has received four "proposals" to build liquefied natural gas (LNG) terminals, and that all four will be built. Note: The whole of India has only three terminals; the BOI wants Sri Lanka to have four terminals.
Obviously, the BOI Chairman did not know how much one cost, that the market is only for Sri Lanka (a gas terminal is not a garment factory, to manufacture and export), and that each one costs about $ 700 million. So he accepted "proposals" from four parties, boasted about it and did not allow a systematic process to be followed in procurement. Finally, two and a half years later, all four terminals, their proponents, local agents and the Chairman himself are gone with the wind. Sri Lanka is back to square one.
Adding insult to injury, the Government reportedly issued letters of intent to two countries to build gas terminals. What a joke? Governments do not issue letters of intent to another government. They are not worth the paper on which they are written on. Letters of intent are commercially binding documents, issued after a serious procurement process. You do not issue a letter of intent on an undefined project. Such flimsy documents in the bureaucratic jargon are called 'non-binding MOUs'. So with a flimsy MoU on a gas terminal, Sri Lanka is again back to square one……
Read more: http://www.ft.lk/article/632246/An-open-letter-to-BOI–PPP-on-petroleum–gas-and-electricity-industry
Daily FT  31 July 2017